TRS - X
Opis produktu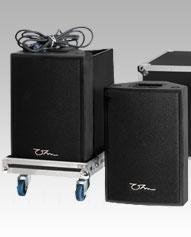 With both sizes of TRS monitor catered for, each flight case will hold two monitors. When the lid is removed from a loaded case the two cabinets are stood on end making the handles accessible for easy removal, the voids created by fitting the cabinets back to back are utilised as cable storage compartments.
An array of strategically placed handles and castors braked and unbraked make the cases easily manoeuvrable.
Heavily constructed using premium grade 9mm plywood, heavy duty extrusions, handles, castors and ball corners make these cases extremely suitable for the rigours of the road.
An ATA specification dish is fitted as standard with label supplied separately for case identification.
Galeria