LM - 5
Opis produktu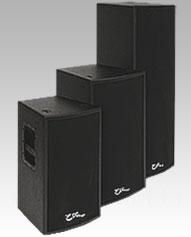 Utilising a one inch exit, 44mm voice coil, Compression Driver, that many manufacturers would reserve only for their very expensive 'high-end' cabinets, the LM-4, LM-5 and LM-6 perform in a way that belies their affordable price tag. Loaded with proprietary custom made OHM bass-mid drivers that allow precise integration with the CD horn, the result is a smooth, controlled and powerful high SPL Response with outstanding definition and clarity.
Designed for professional Dj's, live band applications and custom installs, the LM-4 (12"), LM-5 (15") and LM-6 (Twin 15") offer an edge over the competition.

Fitted with twin Neutrik Speakon® compatible connectors, allowing for easy daisy chaining, and sharing the full range of LM features normally expected from products costing considerably more.

In addition to the standard features LM-4, LM-5 and LM- 6 are fitted with flying points, bar handles and are made from 18mm Birch Plywood.

Designed as full range enclosures or for use as mid high packs in sub-woofer, satellite systems.
Produkt dostępny do wyczerpania zapasów!
Specyfikacja techniczna
| | |
| --- | --- |
| impedancja: | 8 [Ω] |
| moc AES (continuous): | 375 [W] |
| moc AES (programme): | 750 [W] |
| SPL (1W/1m): | 98 [dB] |
| Max @ 1m: | 125 [dB] |
| pasmo przenoszenia (-3 dB): | 65 - 19 800 [Hz] |
| Częstotliwość podziału: | 1 600 [Hz] |
| Active crossover HPF: | 90 [Hz] |
| kąt rozproszenia poziomo x pionowo: | 90 x 50 [˚] |
| wymiary H x W x D: | 689 x 458 x 400 [mm] |
| waga: | 28.8 [kg] |
Galeria